Community developer vs home builder
What is the difference?
Purchasing a new home can be a long process that has many moving parts, especially if you are building a new home in a new community. The purpose of this blog is to outline what a developer like Quaiico Communities Calgary does. It also outlines what you can expect from developers in comparison to what you can expect from the builder you choose to buy with.
What is a community developer?
A community developer is, in a sense, a land developer. They own large parcels of land and work with engineers, surveyors, planners, and municipalities to create cohesive communities, based around the infrastructure needed for the area. During the planning process, a plan is created to show road networks, residential and commercial land uses, school sites, parks, and other amenities in a new community.
A community developer will take multiple things into consideration when planning a new community. In collaboration with planners and engineers, the utility network is designed to service the community, including water mains, storm and sanitary sewers, electrical, natural gas, and telecommunications. Many of these items you cannot see. Much of the work is done years before ground is broken to ensure the community will have what is needed as it is built, but also long after the community is complete.
Developers bring forth community amenities such as parks, playgrounds, ponds, pathways, and tree planting to beautify the community. The developer also creates the look and feel of a community. Architectural Guidelines are created to ensure streets have a cohesive style. This usually includes four to six separate architectural styles and exterior materials to create that cohesive feel.
What is a home builder?
Once an owned parcel of land is ready for sale, and the developer has been granted permits to move forward with the development from the municipality, developers work with engineers to create lots. These lots include home types suitable for the market. The lots are then sold to builders, often by phase releases. Home builders purchase these property lots from the developer and sell them with homes built, either pre-planned (spec homes) or to customer specifications. Single-family home builders can work with customers to customize the home they build. They are often referred to as "pre-sale" homes in the Calgary market. These include various model styles, floorplan options, and exterior and interior design. Spec homes that are usually sold as "Quick Possessions," usually do not allow for customization.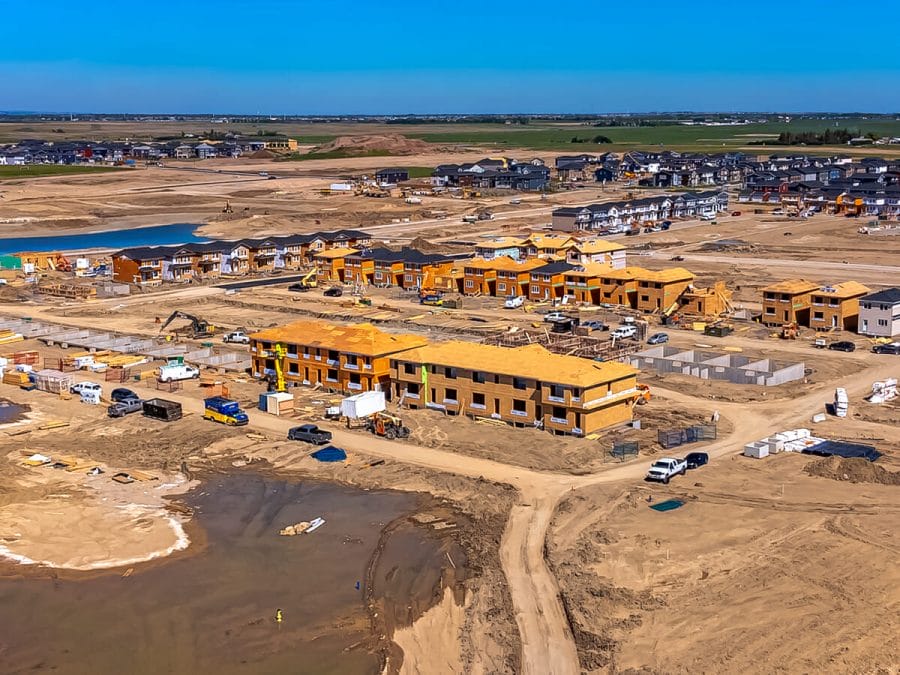 There are also other product types such as duplexes, townhomes, or condos which some builders offer. Often, these home types do not have customizable options. Reach out to your builder of choice to see what is available for the type of home you are looking for.
Who should i contact for an issue?
Who you should contact depends on the issue.
If you have a home-related question, like knowing when new lots are available to be sold to a buyer, specific model and pricing questions, the timeframe in which a house is expected to be completed, updates on the status of a home while being built, or if there are deficiencies in a home post-possession, contacting the builder directly is best.
If there is an issue in the community as it is being developed, such as a street light outage, concrete damage, or questions about sewer smells or street drainage, you need to contact the developer.
In simpler terms, if the question or query is about your home or property, please contact the home builder. If your question or query is about the community, please contact the developer.
What can you expect from the developer?
During the development of a community, the developer will promote the community, communicate updates, build amenities, and construct new phases of development.
During construction, the developer is responsible for infrastructure construction and maintenance and adhering to agreements made with the municipality when all approvals were granted for construction.
The developer can assist you with issues regarding zoning, questions, and concerns over future development areas, and maintenance while the phases are still in development.
What can you expect from the builder?
The builder will guide buyers through the sales and home customization process. While the home is being built, builders will maintain close contact with you. They will work on constructing the home and communicating the important construction milestones with the customer.
Once the home is built and the customer has moved in, the builder will help protect your new investment by providing the required warranty. All builders in Alberta are required to provide a warranty for new homes in Alberta. You can find more information about this at the Alberta Government Home Warranty Overview page.
when does the municipality get involved?
The municipality gets involved as phases are completed in the community. After construction is complete, the developer typically maintains the infrastructure for two to three years. The municipality will then issue Final Acceptance Certificates (FACs) for each type of infrastructure being transferred. FACs are issued when all inspections are complete, and all requirements set by the municipality have been met by the developer.
Once an FAC is issued, the phase is no longer the responsibility of the developer and becomes the responsibility of the municipality to maintain.